"Don't worry about making mistakes… just relax and have fun. Sometimes the best creations are born that way."
I don't know about you, but I have had a few revelations recently. Firstly, I've learned that global pandemics are an actual thing. And secondly, I've been abruptly reminded every day that I can't cook. Neither of which felt very relevant, until they were.
For those of you who may not know, I had COVID 19 and was self-isolated for over 9 weeks, in a place where takeaway and delivery don't exist. So there was a grocery store, and there was me, but nothing else …for 9 weeks.
And while there were the challenges of having the virus, there were also the challenges of figuring out how the hell I was going to survive after finishing my 10th box of cereal.
Luckily, I rode the wave of the House Party app for the single week of its relevancy, and was quickly reminded that I have friends who are FAR more talented than I, and without question, FAR more useful in a global pandemic than I could ever be. And thank God!
So with that, I would love to introduce you to my dear friend and chef extraordinaire, Emma Deigman. Her cooking skills are legendary; her dishes zesty fresh and tantalizingly tasty. She's been a godsend these last few weeks, rescuing me from an endless potential of kitchen disasters, and more than a handful quarantine meltdowns.
I have tried following recipes, I have tried youtube, I have tried the food network… you name it, after these 9 weeks, I can safely say that I have tried it all. I can also safely say that it ended up in flames every time.
I don't know what her trick is, but only Emma has been able to give me recipes that provide the flavors I crave, all the while being healthy, and most importantly, EASY.
Since she has done the unthinkable in teaching me how to cook, it feels only fair to share her wisdom with you. Here is Emma's ridiculously delicious and oh-so-simple Zucchini Pasta.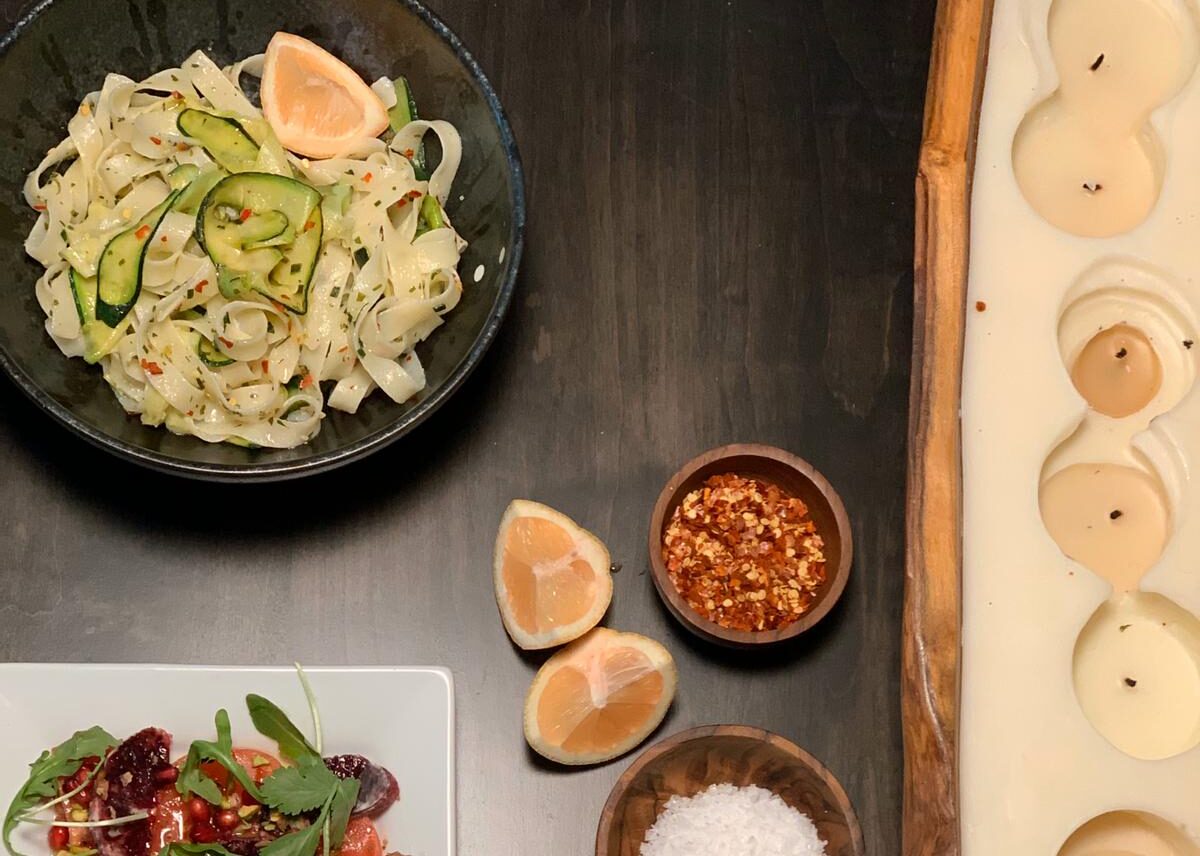 Emma's Zucchini Pasta
Emma's Zucchini Pasta is a light and refreshing option for when you're craving pasta. Crammed with vegetables and a beautiful combination of colors, it is both healthy and aesthetically pleasing. We love it for a quick, easy summer's lunch.
Time: 20 minutes 
Serves: 2
Ingredients
1/2 box of spaghetti or linguini (we used gluten-free linguini)

2 zucchinis (or squash)

1 lemon

1 tablespoon of extra virgin olive oil, more for drizzling

1 pinch of dried oregano

1 pinch of dried parsley

1 pinch of chili flakes

1 large pinch of salt

pepper to taste

parmesan cheese (optional)
This recipe is flexible. The zucchini can be replaced with squash, or the linguine with spaghetti. You can create another version of the recipe by using broccoli rabe, cutting it into chunks, and using fusilli or penne to match its consistency.
Method
Begin by boiling water for the pasta. Add some salt for flavor and to help the water boil faster. If you're using gluten-free pasta, add a dash of olive oil to your water to prevent it from sticking. Once it reaches a boil, add your pasta and cook according to the package instructions.

Using a vegetable peeler, peel your zucchini. Peel the same section, again and again, creating thin ribbons. Stop when you begin to see the seeds, and begin to peel the next side. For best results, spin the zucchini at 90-degree angles between peels.

Add two tablespoons of olive oil to a new pan. Coat the base, then add your zucchini ribbons. This will be your pasta sauce. 

Zest half a lemon's circumference onto the zucchini-olive oil mixture. Keep zesting until you get to the white of the skin.

Next, add a pinch of dried parsley and dried oregano to taste (Emma likes enough to lightly cover her zucchini).

Start heating your zucchini/ olive oil combination over medium heat. Mix the zucchini, coating each piece in the olive oil and seasoning. Cook the zucchini until you see a clear watery color develop in the vegetable. This should take about 5 minutes, varying slightly depending on how much zucchini you use. For the best texture, turn off the heat while the zucchini still has some crunch to it.

Once you're happy with the consistency of both the zucchini and the pasta, slowly stir the zucchini into the pasta, mixing it in on low heat.

Squeeze a quarter of a lemon onto the pasta, and keep stirring. Let the wedge fall into the pasta. 

Add salt, pepper, and chili flakes to taste. You're ready to plate the dish.

Garnish with your lemon wedge. Drizzle some 'nicer' extra virgin olive oil (for salad dressing or bread dipping) over your pasta to add that extra kick of taste. If you're a cheese fan, add parmesan to taste.
Buon appetito! A healthy, refreshing pasta dish for two. Enjoy the flavors, influenced by Emma's summers spent in Italian cooking schools. Eat, drink, and be merry!
Emma's Tip: Forget perfection! It's all about fun and your own personal taste. If you prefer one spice to another, or love lemon – adjust the recipe to your liking!