Making time for relaxation is not only one of life's greatest joys, but also critical for both your physical and mental health. For some of us though, 'switching off' doesn't come naturally, and we need that extra bit of help to quiet our mind and relax. And no place does this better than a spa.
Spas are expertly designed to simultaneously stimulate and soothe the senses, creating balance and a calming synthesis of peace and tranquility. Closing your eyes, inhaling scents of lavender, eucalyptus, and ylang-ylang; hearing soothing sounds of the ocean's waves, birds singing, or Buddhists chanting; feeling the touch of a masseuse's hands or the graze of a body scrub.
Everything is intentional. Everything is catered for. Everything is pampered.
So if you're one of the many that lack the ability to switch off for the day, don't despair. We're here to help break down why and, more importantly, how you can replicate the spa experience and introduce those aspects into your own home.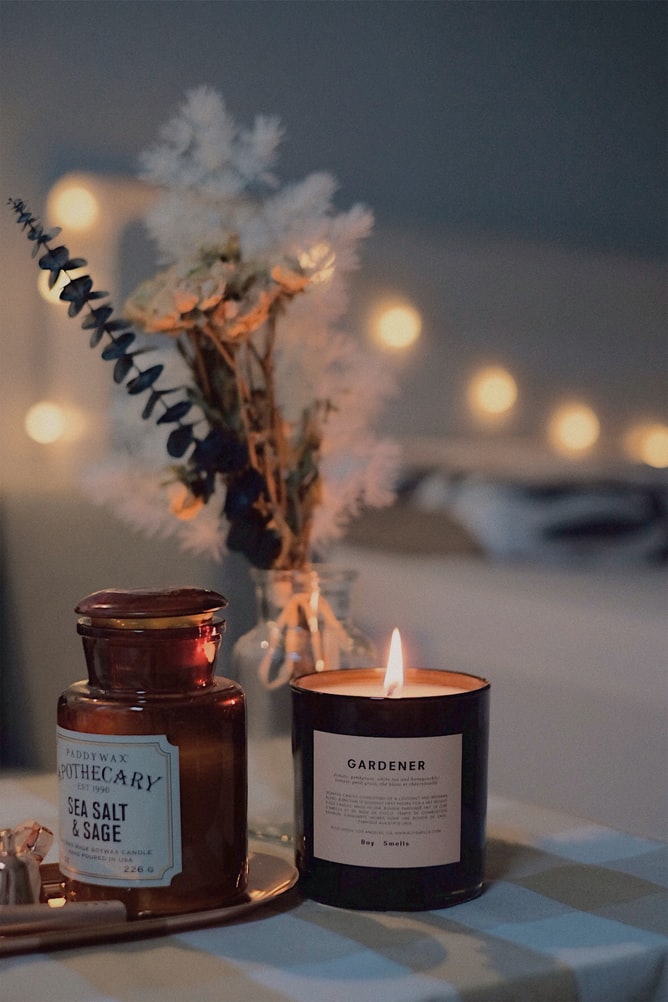 Sight
You may have heard the term 'mood lighting', and it's called that for a reason. Lighting is the most important part of any room, determining the mood in every scenario. It is the first thing you notice, and choosing the right brightness and tone of your lighting is imperative for creating a tranquil and comforting environment. For the ultimate in relaxation, you're going to want something with a yellowish hue (a tungsten color). The warmth that yellow creates is reminiscent of evening light, and so naturally induces a sensation of calm, comfort, and reassurance.
How to create this in your own home:
Whether by lighting candles or installing dimmer switches, it's so easy to create this effect. The beautiful glow will work wonders.
Candles: Candles are one of the most inherently relaxing sources of light. The warm glow of their flicker is certain to calm you – especially if aromatic. My favorite is the Chateau Marmont Alessandra Candle (obviously), but there are so many beautiful alternatives on the market.
Dimmers: I swear by the importance of installing dimmer switches on all of my lights. It is a trick that I absolutely swear by, and ensures that no light is ever too harsh. It can be done easily and affordably by just attaching dimmers to your plugs. Voila!
Light bulbs: Buying the right light bulbs is also key, and is something that people always forget. I recommend buying tungsten incandescent light bulbs if you can, or my favorite Edison bulbs in hand blown glass.
Smell
Aromatherapy is a powerful, age-old piece of magic. Having been used around the world for centuries, it uses plant extracts and essential oils which promote health and well-being. The plants and oils used all have their own proactive health properties, as well as the power to soothe the mind and soul with their scents. The aromatic essences stimulate the limbic system, which in turn has a powerful effect on your body. It's an art form, and provides a wealth of opportunity in its variety of options and effects.
Tip: Use 100% essential oils, which are extracted from plants using distillation or cold-pressing. These are natural and, in terms of aromatic properties, infinitely more powerful than any alternatives.
A few examples:
Lavender – one of the most popular choices, lavender is an aromatic nervine and the ultimate in relaxation
Jasmine – this sweet scent is widely revered for its ability to lift one's spirits and relieve depression (it has the added benefit of boosting the libido, too)
Ylang-ylang – amazing for treating headaches, nausea, and skin conditions, it's a multipurpose chill-out
The benefits of aromatherapy can be achieved in two ways – either through delicious smelling candles (which also produce ambient lighting) or through essential oils.
Tip: Think beyond the diffuser: use massage oils and scrubs, and wash all your linens and towels in beautifully relaxing scents.
Touch
Spas approach the sense of touch through massages and other body treatments. Whether you're applying bath scrubs to your own body, or you're lucky enough to have someone to massage you into the ultimate lull, the use of touch is one of the most powerful ways to encourage relaxation.
For the bath: Buy a loofah or bath salts. Both will use the sense of touch to enhance the sensation of an already delightful bath.
For the home: Make sure to fill your homes with items that are soft to the touch, enhancing that extra-special feeling.
Silk is always a wonderful option. For the ultimate in luxury, get yourself a silk robe. There is nothing better to wrap yourself up in, believe me. But for a more economical – albeit just as sumptuous – purchase, a silk eye mask is also a beautiful buy. It will make going to sleep that much more dreamy (get it?).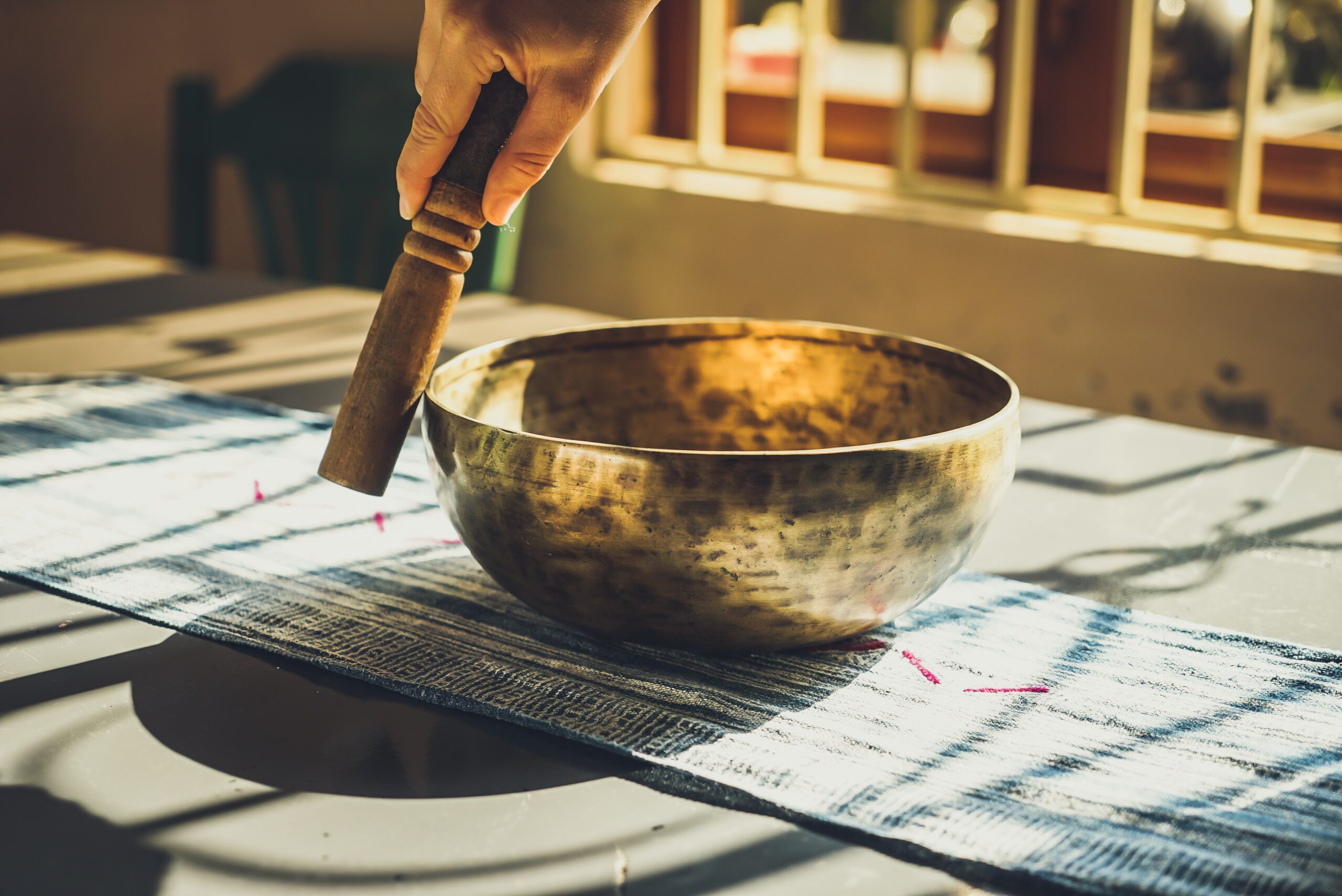 Sound
The world is full of hustle and bustle, and everyday sounds can be distracting and stressful. Traffic, construction, and busy children are all normal, but they don't allow you to focus on yourself. Tune out the noise of the outside world with calming music, the sounds of beach waves, or the birds singing.
Gongs and sound baths have recently gained in popularity, and for good reason: they use ancient techniques and specific sound waves to create the most magnificent meditative state. Certain vibrations impact the nervous system and, in turn, the mind. To achieve the same effect at home, you can either buy yourself a gong, singing bowl, or download a calming app like Leo Cosendai's Third Ear. Whatever you choose, it will help.
And most importantly, NEVER allow phones into the room when you're relaxing. Sanctify wherever you've chosen to unwind, and make sure to remember that this is your place, and this is your time. No one else is welcome. Just for now.